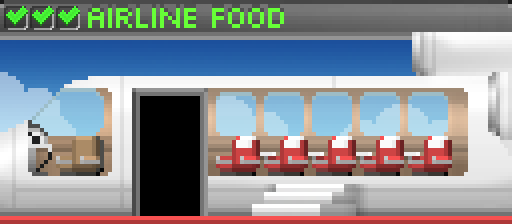 The Airline Food is a Food floor. On the floor, you can see an airplane with multiple seats inside. There are stairs leading up to the seating area. The elevator entrance is located between the cockpit and the seats. The plane closely resembles an Aeroeagle P in Pocket Planes, another Nimblebit game, but it only has 5 seats instead of the real 6.



The Airline Food stocks:
Pretzels  

Ginger Ale  

Turkey Sandwich  
Stock
Missions
There are no Missions associated with this floor.
Achievements
There are no Achievements associated with this floor.
Ad blocker interference detected!
Wikia is a free-to-use site that makes money from advertising. We have a modified experience for viewers using ad blockers

Wikia is not accessible if you've made further modifications. Remove the custom ad blocker rule(s) and the page will load as expected.