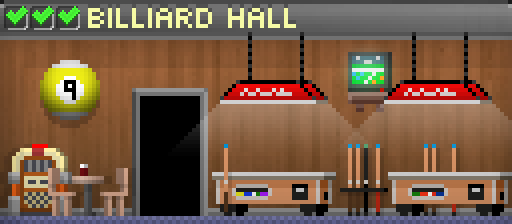 The Billiard Hall is a Recreation floor. It has a hole-in-the-wall vibe, with wood panel walls and two large industrial lights hanging over the pool tables. On the left, a wooden table with chairs sits in front of a retro Wurlitzer-style jukebox, while a large yellow billiard ball (marked "9") hangs from the wall. A small TV showing a football game sits on a shelf to the right mounted near the ceiling, while cue sticks are stacked beneath it.



The Billiard Hall stocks:
Trick Shots  

9-Ball Game  

Pool Contest  
Stock
Missions
#
Mission
Bitizen
Description
Requirements
Bux earned
28
April Fool's 2012
Bitizens are preparing some hijinks in your tower! They need:
225 LOL's (Comedy Club)
1,350 Trick Shots (Billiard Hall)
5
Achievements
There are no Achievements associated with this floor.
Ad blocker interference detected!
Wikia is a free-to-use site that makes money from advertising. We have a modified experience for viewers using ad blockers

Wikia is not accessible if you've made further modifications. Remove the custom ad blocker rule(s) and the page will load as expected.