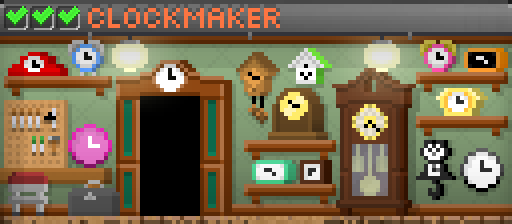 The Clockmaker is a Creative floor. The room has a dark green wallpaper by default, a total of 15 clocks are present. 2 ceiling lights are present, as well as a stool, a toolbox, some shelves, and a tool rack.



The Clockmaker stocks:
Cuckoo Clock  

Cat Clock  

Floor Clock  
Stock
Missions
#
Mission
Bitizen
Description
Requirements
Bux earned
86
Oktoberfest '13
Bitizens are celebrating Oktoberfest! They need:
450 Root Beer (Pub)
6,750 Cuckoo Clock (Clockmaker)
5
Achievements
There are no Achievements associated with this floor.
Ad blocker interference detected!
Wikia is a free-to-use site that makes money from advertising. We have a modified experience for viewers using ad blockers

Wikia is not accessible if you've made further modifications. Remove the custom ad blocker rule(s) and the page will load as expected.