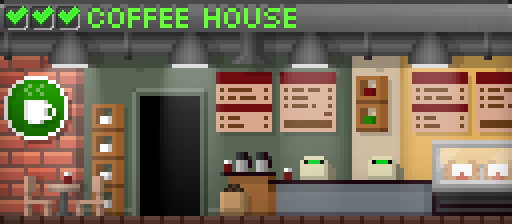 The Coffee House is a Food floor. It has only one table on the far left. On the right, there is a counter with two cash registers, and on the wall are (supposedly) menus. There are two portable coffee mugs on the counter, and there is a small glass case on the far right. 4 lights hang from the ceiling.



The Coffee House stocks:
Espresso  

Tall Latte  

Frappe  
Stock
Missions
#
Mission
Bitizen
Description
Requirements
Bux earned
18
Hot Trends
Hipsters in your tower have lead[sic] to increased demand of:
225 Espresso (Coffee House)
6,750 Discography (Record Shop)
10
42
Beat the Heat
A heatwave has hit your tower, the Bitizens need:
900 Frappe (Coffee House)
450 Root Beer (Pub)
1,800 Cola 6 Pack (Soda Brewery)
8
60
Board Meeting
Big-shot executives are holding their annual board meeting and need catering!
900 12 Inch Sub (Sub Shop)
2,025 Walnut Muffins (Bakery)
225 Espresso (Coffee House)
5
Achievements
| # | Name | Goal | Reward |
| --- | --- | --- | --- |
| 36 | Something's Brewin | Fully stock a Coffee House & Soda Brewery | 10 points |
Ad blocker interference detected!
Wikia is a free-to-use site that makes money from advertising. We have a modified experience for viewers using ad blockers

Wikia is not accessible if you've made further modifications. Remove the custom ad blocker rule(s) and the page will load as expected.