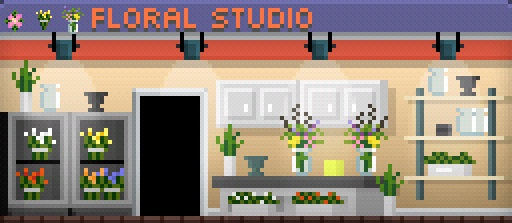 The Floral Studio is a Creative floor. 



The Floral Studio stocks:
Corsage  

Bouquet  

Arrangement  
Stock
Missions
#
Mission
Bitizen
Description
Requirements
Bux earned
7
Prom Night
Your tower is hosting a prom dance! The dance requires:
1,125 Corsage (Floral Studio)
4,500 3 Piece Suit (Mens Fashion)
7
20
Valentine's 2012
Everyone in your tower is making plans for Valentine's Day, stock the following
5,400 Stone Massage (Day Spa)
16,200 Arrangement (Floral Studio)
28
27
Wedding Season
Love is in the air and Bitizens are getting hitched! These products are in demand:
5,400 Full Ceremony (Wedding Chapel)
7,200 Bouquet (Floral Studio)
11
29
Spring Time
Spring is in full-swing in your tower, there's been a run on:
7,200 Bouquet (Floral Studio)
2,025 Butterfly (Tattoo Parlor)
7
69
Memorial Day 2013
Bitizens are honoring the fallen. They need:
2,025 Trumpet (Music Store)
7,200 Bouquet (Floral Studio)
8
Achievements
There are no Achievements associated with this floor.