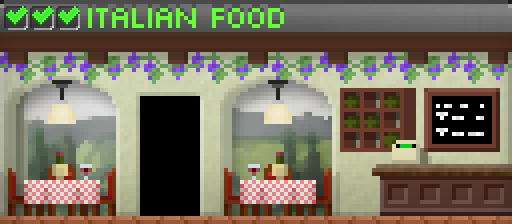 The Italian Food is a Food floor. A grapevine is painted along the top of the restaurant's wall, as well as two frescoes, possibly depicting the Italian countryside on either side of the door. There are two tables with red-and-white checkerboard tablecloths, each with a pair of chairs and a bottle and glass on each one. Each table has a lamp hanging over it. On the right, there is a shelf with bottles and a chalkboard menu hanging on the wall. There is also a brown counter with a cash register on it.

The Italian Food can be selected if you own the Vip Package

The Italian Food stocks:
Garlic Bread  

Cannoli  

Spaghetti  
Stock
Missions
There are no Missions associated with this floor.
Achievements
There are no Achievements associated with this floor.
Ad blocker interference detected!
Wikia is a free-to-use site that makes money from advertising. We have a modified experience for viewers using ad blockers

Wikia is not accessible if you've made further modifications. Remove the custom ad blocker rule(s) and the page will load as expected.