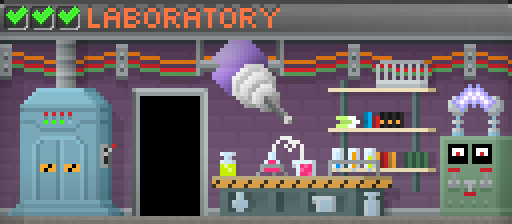 The Laboratory is a Creative floor. 



The Laboratory stocks:
Love Potion  

Mystery Goo  

Monster  
Stock
Missions
#
Mission
Bitizen
Description
Requirements
Bux earned
45
Mars Curiosity
Bitizens are excited for the Mars Curiosity landing! They need:
4,500 Solar Tour (Planetarium)
13,500 Mystery Goo (Laboratory)
12
51
Back to Wiz School
Some Bitizens are preparing to go to a very special school, they need:
2,025 Tarot Reading (Fortune Teller)
5,400 Love Potion (Laboratory)
1,125 Hardback (Book Store)
6
53
Cowabunga
Bitizens have noticed some odd looking turtles in the Tiny Tower sewers! Collect:
3,500 Mystery Goo (Laboratory)
1,500 Black Belt (Martial Arts)
225 Giant Pizza (Pizza Place)
6
57
Halloween 2012
Bitizens are preparing for Halloween! They need:
2,025 Choc Truffle (Chocolatier)
36,000 Monster (Laboratory)
9,000 Screams (Haunted House)
20
Achievements
There are no Achievements associated with this floor.
Ad blocker interference detected!
Wikia is a free-to-use site that makes money from advertising. We have a modified experience for viewers using ad blockers

Wikia is not accessible if you've made further modifications. Remove the custom ad blocker rule(s) and the page will load as expected.