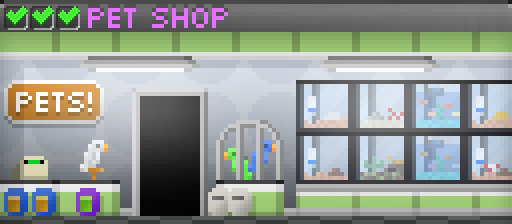 The Pet Shop is a Retail floor. Displays with a variety of animals for sale line the wall, while colorful birds roost in a cage beside them. On the counter there is a cash register and a white bird sitting on a perch. The wall has a large sign and bags of animal feed sit on the floor.



The Pet Shop stocks:
Pet Food

Hermit Crab

Parrot
Stock
Missions
There are no Missions associated with this floor.
Achievements
There are no Achievements associated with this floor.
Ad blocker interference detected!
Wikia is a free-to-use site that makes money from advertising. We have a modified experience for viewers using ad blockers

Wikia is not accessible if you've made further modifications. Remove the custom ad blocker rule(s) and the page will load as expected.