The top of Tiny Tower, which can be changed in appearance by purchasing or unlocking a rooftop design. It is also where the player can purchase new floors.
When the player has enough coins, they can tap the floor sign. A message will appear, asking Build a new floor at a cost of (coins) coins? If you tap "Yes," the game will construct an empty floor and reward you with a Tower Bux. You may then choose which type of floor should be built. This will lead to a Construction floor.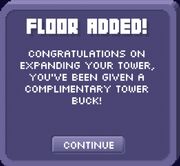 Appearance
Edit
The elevator door is on the left, as a outcrop from the ground. A mallet leans against it, not in the green toolbox in the middle of the roof. Half-finished supports stick straight up, with a sign showing the amount of money needed to build the next empty floor. A crane towers over the scene, and a stack of wooden palettes with a hard hat on top sit under it. A red mesh fence closes everything in. It can be upgraded into different looks using Tower Bux. Buying the Vip Package unlocks all of them.
Picture
Name
Crane
American Flag
Historic Landark
Android
Obtaining
Free
VIP/1776 Bux(event)
Playing before 3.0.0

Playing on

an Android

or Google Pixel

Picture
Name
Farm
Pocket Plane
Pocket Train
Russia
Obtaining
Picture
Name
Disco Zoo
Snowy Roof
Fun Fair
Dojo
Obtaining
Picture
Name
Waterpark
Tree
Pyramid
Europe
Obtaining
Picture
Name
Desert Island
Greek Temple
Jungle Temple
Secret Lab
Obtaining
Picture
Name
Halloween
Snowman Roof
UFO
British
Obtaining
VIP
VIP
Picture
Name
Roman
Eiffel Tower
Bit Rock
New York
Obtaining
Picture
Name
China
Arc de Triomphe
Taj Mahal
Spooky
Obtaining
Picture
Name
Neon Sign
Galleon
Statue
Fantasy Castle
Obtaining
Picture
Name
Monster
Blimp Port
Scream Tower
Nasa
Obtaining