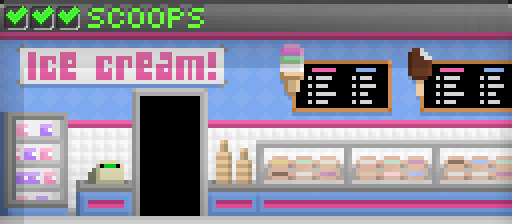 The Scoops is a Food floor. On the right side of the floor, there is a blue and pink counter displaying various flavors of ice cream behind glass, as well as two stacks of ice cream cones. The left side has a small counter with a cash register and a freezer filled with ice cream containers. There is a large banner with the words "Ice Cream!" written on it in pink, and two black chalkboards with displays of an ice cream bar and a triple scoop ice cream cone.



The Scoops stocks:
Ice Cream Bar  

Triple Scoops  

Ice Cream Cake  
Stock
Missions
#
Mission
Bitizen
Description
Requirements
Bux earned
34
Summer Vacation
Bitizens are planning trips to soak up some sun! We need:
5,400 Cruise Booking (Travel Agency)
675 Triple Scoop (Scoops)
8
77
Moon Day
A small step for bit-kind. Bitizens need:
675 Rocket Ship (Toy Store)
400 Ice Cream Bar (Scoops)
5
Achievements
| # | Name | Goal | Reward |
| --- | --- | --- | --- |
| 14 | Desserted | Fully stock a Cake Studio & Scoops | 10 points |
Ad blocker interference detected!
Wikia is a free-to-use site that makes money from advertising. We have a modified experience for viewers using ad blockers

Wikia is not accessible if you've made further modifications. Remove the custom ad blocker rule(s) and the page will load as expected.