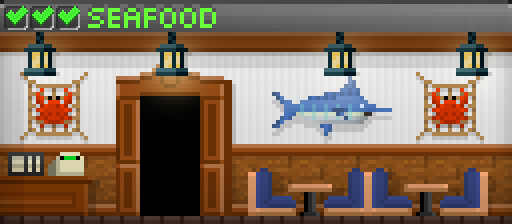 The Seafood is a Food floor. It is a traditional sit down-style restaurant with a wooden doorway and wall paneling, and lanterns hanging from the ceiling. There are two tables with blue bench seating and a swordfish and crab caught in a net displayed on the wall above them. The left side has a wooden counter with a cash register as well as another display of a crab caught in a net on the wall.



The Seafood stocks:
Sea Bass

Lobster

King Crab
Stock
Missions
There are no Missions associated with this floor.
Achievements
There are no Achievements associated with this floor.
Ad blocker interference detected!
Wikia is a free-to-use site that makes money from advertising. We have a modified experience for viewers using ad blockers

Wikia is not accessible if you've made further modifications. Remove the custom ad blocker rule(s) and the page will load as expected.