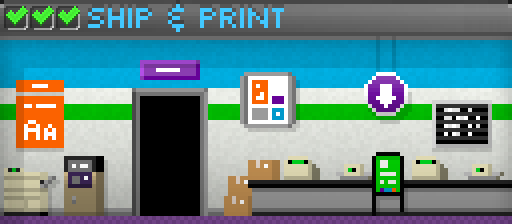 The Ship & Print is a Service floor. It is a delivery and printing office, offering both self service and counter service. There is a counter with cash registers, packages waiting to be shipped out, copying machines, and posters hanging on the wall.



The Ship & Print stocks:
Photocopies  

Shipment  

Sales Report  
Stock
Missions
There are no Missions associated with this floor.
Achievements
| # | Name | Goal | Reward |
| --- | --- | --- | --- |
| 32 | Printer Ink | Fully stock a Ship & Print & Tattoo Parlor | 10 points |