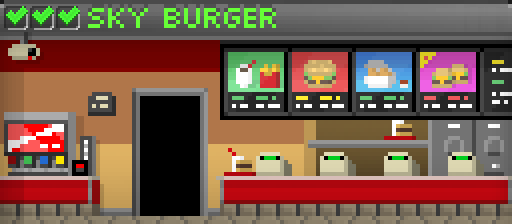 The Sky Burger is a Food floor. It has 4 cash registers on a counter beneath a menu, and a Coca-Cola (NOT Pepsi) machine with multicolored drinks: basically a pixelated McDonald's.



The Sky Burger stocks:
Stock
Missions
There are no Missions associated with this floor.
Achievements
| # | Name | Goal | Reward |
| --- | --- | --- | --- |
| 7 | Burger Bytes | Fully stock a Sky Burger & Cyber Cafe | 10 points |
Trivia
Sky Burger is probably a reference to the NimbleBit iOS game of the same name.
It's name may also be a reference to Burger King, while it's interior is similar to McDonald's .
Ad blocker interference detected!
Wikia is a free-to-use site that makes money from advertising. We have a modified experience for viewers using ad blockers

Wikia is not accessible if you've made further modifications. Remove the custom ad blocker rule(s) and the page will load as expected.