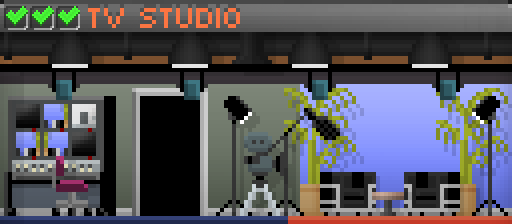 The TV Studio is a Creative floor. At the left side from the door you can see a studio computer with some wives from cameras on. At the right side is a scene, where you can see two armchairs, two palms and a blue phone behind.



The TV Studio stocks:
News Segment  

Talk Show  

Celeb Interview  
Stock
Missions
#
Mission
Bitizen
Description
Requirements
Bux earned
52
MyPhone 5 Launch
Bitizens are already lining up for the MyPhone 5! They need:
5,400 MyPhone (Mapple Store)
2,025 News Segment (TV Studio)
6
58
Election 2012
Bitt Romney and Barack Bitbama are running for tower president! They need:
14,850 TV Ad (Ad Agency)
2,025 News Segment (TV Studio)
20
70
JFK's Birthday
Bitizens in your tower are honoring President Kennedy! They need:
675 Rocket Ship (Toy Store)
2,025 News Segment (TV Studio)
5
Achievements
There are no Achievements associated with this floor.
Ad blocker interference detected!
Wikia is a free-to-use site that makes money from advertising. We have a modified experience for viewers using ad blockers

Wikia is not accessible if you've made further modifications. Remove the custom ad blocker rule(s) and the page will load as expected.