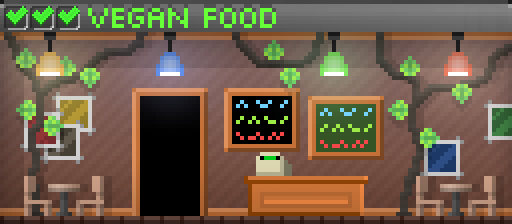 The Vegan Food is a Food floor. Vines grow around the wooden room, and red, green, and blue chalkboard menus hang on the wall. Two simple wooden tables stand ready.



The Vegan Food stocks:
Beet Salad  

Roasted Potatoes  

Soy Burger  
Stock
Missions
#
Mission
Bitizen
Description
Requirements
Bux earned
12
Soy Loco
A vegetarian craze is sweeping the tower, all people want to eat are:
2,025 Orange Tofu (Asian Cuisine)
1,575 Soy Burger (Vegan Food)
5
15
Save the Planet
A growing number of Bitizens are becoming environmentally conscious, we need:
3,600 Mountain Bike (Bike Shop)
450 Beet Salad (Vegan Food)
6
54
Canadian Thanks 2012
Canadian Bitizens in your tower are celebrating Thanksgiving! They need:
1,125 Roasted Potatoes (Vegan Food)
2,250 Roast Duck (Fancy Cuisine)
4
88
World Vegetarian Day
Bitizens are going meat-less for vegetarian day, they need:
1,575 Soy Burger (Vegan Food)
1,710 Hanging Plant (Plant Nursery)
4
Achievements
| # | Name | Goal | Reward |
| --- | --- | --- | --- |
| 22 | Green Screen | Fully stock a Vegan Food & Film Studio | 10 points |
Ad blocker interference detected!
Wikia is a free-to-use site that makes money from advertising. We have a modified experience for viewers using ad blockers

Wikia is not accessible if you've made further modifications. Remove the custom ad blocker rule(s) and the page will load as expected.